INSERTS INTERNATIONAL
Ultrasonic Brass Molded Inserts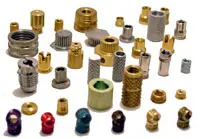 Inserts International offers custom, standard, and colored ultrasonic brass molded inserts in the sizes, shapes, and colors needed to meet your exact design needs and functional requirements and usages.
Through the company's historic dedication to provide the best customer service possible, Inserts International has developed a true expertise in meeting customer expectations. Past experience with numerous custom designs allows Inserts International to offer time savings and the best solution for your production through collaborative design..
Inserts International also offers you a wide variety of additional custom insert plating and material options, including zinc plated and gold plated inserts.
Plated Inserts Available:
Materials Available For Inserts:
Zinc plated inserts
Gold plated inserts
Brass plated inserts
Nickel plated inserts
Copper plated inserts
Chrome plated inserts
Others on request
Brass
Steel
Aluminum
Stainless steel
Copper/bronze
Others on request
Colored Inserts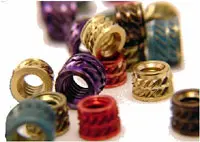 Colored brass molded inserts allow you to differentiate between any two inserts, no matter how similar they may be.
Uses for Colored Inserts:
Inserts with similar appearances
Two same inserts with different measurement systems ( inches & metric)
Two same inserts with different destinations (inside, outside the product, ...)
The assembly order process (blues first, then reds,…greens, ...) for you or your final customer
The benefits of colored manual inserts include savings in production, simplifying complex assembly processes, and reducing assembly and maintenance time, all resulting in higher quality and default-free rates. Watch your final customers satisfaction levels increase. The extra measure of insurance you gain is invaluable.
Colored Manual inserts are immediately available in Red, Blue, Green, or Black.
Standard Ultrasonic Brass Insert Details




Inserts International classifies its inserts using the following nomenclature:
Inserts International's standard and custom ultrasonic brass inserts are utilized in a wide range of products (electronics, automobiles, tools, ...) and can be installed in a variety of installation types and base materials.
The four main types of insert installation are:
Manual or Press-in: The insert is pressed into the drilled "boss" or remolded hole, using a standard press.
Heat-Stake: The insert is pressed into the mounting "boss" hole, using a thermal press, whose heat melts the plastic during the insertion. The plastic then solidifies to lock the insert into the mounting hole.
Ultrasonic: A high frequency vibration is applied while the insert fastener is pressed into the mounting hole. The vibration creates heat that melts the plastic during the insertion. The plastic then solidifies to lock the insert into the mounting hole.
Molded-in: The insert is placed on core pins in the mold and the part is formed around it.
The main base standard insert materials are:
Hard thermoplastics: PA-filled, PC/ABS Blends, PPS, PBT
Medium thermoplastics: ABS, PA-unfilled, POM (Acetal), PVC
Soft thermoplastics: PP, PE, HDPE
Thermosetting plastics: BMC, DMC, Phenolic, Polyurethane, SMC, Tufnol, Ureas
Standard Inserts Selection Table


Inserts International Part Number
Installation Type
Base Material
Advantages
Manual
Heat Stake
Ultra-sonic
Hard thermo plastic
Medium thermo plastic
Soft thermo plastic
Thermo-setting

I40

Self-locking action (expansion insert)
Fast and easy press-in installation
High torque and pull-out performance


I41

Press-in installation
Self-locking action (expansion insert)
High torque and pull-out performance
Pulled out resistance while minimized penetration into boss holes
Head (I42) provides large bearing surface, useful with weaker plastics


I42