Locking Washers - Permanent Installation
Wedge locking washers, recommended for applications with permanent joints, where fasteners
will NOT need to be removed
Material Choice : Carbon Steel or Stainless Steel
The Disc-Lock™ Two Piece Locking Nut consists of two components each with interlocking cams that are joined together to form a one piece assembly.
The top component is a threaded hexagon nut with cams on the underside and a pilot that retains the washer. The bottom component is a hex flange washer with cams on the top and a smooth bearing surface.
Disc-Lock™ Wedge Locking Nut Dimensional Chart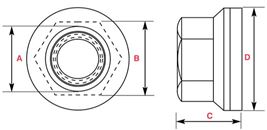 Features & Benefits
Patented Heavy-duty, self-locking designs
Can be used with bolts up to Class 10.9, Grade 8
One piece assembly
No washer required
2 piece nuts coated in RoHS-compliant Magni® 565, 3 piece nuts coated in Geomet 321 (Other coatings available by special order)
Easy to install with standard tools
Easy to remove
Custom sizes available
No re-tightening needed once installed
Vibration proof according to MIL-STD-1312-7
Proven Applications
Disc-Lock™ Locking Nuts outperform standard nuts in a wide range of high stress, corrosive, and vibration-sensitive applications including:
Agriculture Equipment
Automotive
Construction Equipment
Heavy Rail
Logging Equipment
Marine
Military
Mining
Oil Drilling Equipment
Solar
Wind
Waste Management
Safety Wheel Nut
Disc-Lock™'s three piece wedge locking nut in size M22 – our Safety Wheel Nut - is specifically designed to prevent wheel loss from commercial vehicles such as trucks, trailers and buses. Disc-Lock™ Safety Wheel Nuts have been proven to provide better joint protection than that of standard wheel nuts. The combination of lateral, bending forces on the wheels due to cornering, and torsional forces due to braking and acceleration cause Disc-Lock™ Safety Wheel Nuts to lock, maintaining clamp force.
Disc-Lock™'s Safety Wheel Nut consistently performs with class 8.8, Grade 5 bolts.
Installation & Removal
The Disc-Lock™ Safety Wheel Nut is easy to install and remove. It is installed in exactly the same way as a standard wheel nut. Place the socket over the hexagon nut and hexagon flanged washer and tighten or loosen.
Additional Information
Disc-Lock™ Wedge Locking Nuts are manufactured in Two and Three Piece Designs.
When the assembly is subjected to vibration and shock, the interlocking cams of the Disc-Lock™ Locking Nut attempt to rise against each other.
Because the angle of the cam is greater than the pitch angle of the thread on the stud, a wedging action takes place and the Disc-Lock™ Locking Nut locks and will not come loose, maintaining the clamp load and protecting the joint.
Note
The angle of the cam (DL) is greater than the pitch angle of the thread on the stud (T).